hiking
Numerous tours cross the wooded and wooded landscapes, the varied relief, the plains and plateaux of the Pays de Lapalisse.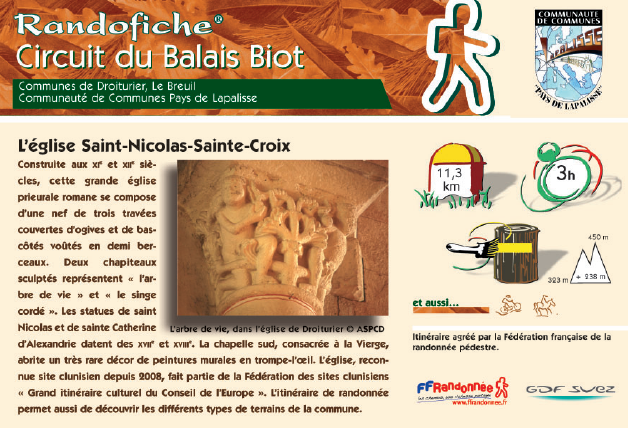 Randofiches
To accompany you in your discovery of our territory and in the practice of hiking, the Office of Tourism offers you 10 "Randofiches". You can order them at the reception desk or order them online now. These supports will allow you to travel, at your leisure and at your own pace, our territory, to discover all its riches.
- Stroll of Château Vert: 7.8 km (starting from St Etienne de Vicq)
- Stroll of Mont Aigu: 8 km (departure from Isserpent)
- Stroll of Châteauroux: 8.6 km (departure from Isserpent)
- La Plaine des Courlis: 10.4 km (departure from Billezois)
- Stroll of Moines: 10.9 km (starting from Périgny)
- Stroll of the Balais Biot: 11.3 km (departure from Droiturier)
- Stroll of the Christophérins: 14.8 km (from St Christophe)
- Le sentier des crêtes: 16.4 km (starting from St Pierre Laval)
- Stroll of the Bois Bouquet: 18.5 km (from Barrais-Bussolles)
- Stroll of the black faces : 19.8 km (departure of the Breuil)
Botanical trail of Le Breuil
This 4,6 km shady botanical path (return trip) crosses the river Besbre and offers information about familiar plant varieties (trees, shrubs, bushes) and birds of Montagne Bourbonnaise. Departure : town center or locality "la Chaize".
Information at Le Breuil town hall : 04 70 99 11 16 - mairie.lebreuil.03@wanadoo.fr
Balade à énigmes Pépit
Go treasure hunting thanks to your smartphone, choose the mission "Faîtes carrière dans le granit" and follow Mandrin.
Upload the free app on Google Play Store or App Store
Contact : 12 cours Anatole France in Moulins - 04 70 20 11 00
c.balineau@caue03.fr - www.pepit03.fr- www.facebook.com/pepit03 -