hiking
Numerous circuits cross the wooded and wooded landscapes, the varied relief, the plains and plateaux of the Pays de Lapalisse.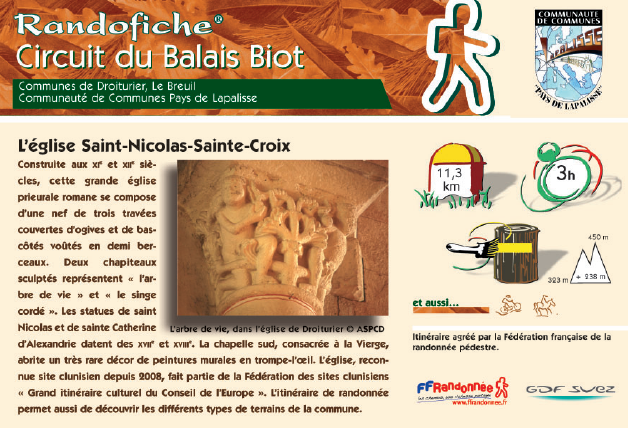 Randofiches
To accompany you in your discovery of our territory and in the practice of hiking, the Office of Tourism offers you 10 "Randofiches". You can order them at the reception desk or order them online now. These supports will allow you to travel, at your leisure and at your own pace, our territory, to discover all its riches.
- Stroll of Château Vert: 7.8 km (starting from St Etienne de Vicq)
- Stroll of Mont Aigu: 8 km (departure from Isserpent)
- Stroll of Châteauroux: 8.6 km (departure from Isserpent)
- La Plaine des Courlis: 10.4 km (departure from Billezois)
- Stroll of Moines: 10.9 km (starting from Périgny)
- Stroll of the Balais Biot: 11.3 km (departure from Droiturier)
- Stroll of the Christophérins: 14.8 km (from St Christophe)
- Le sentier des crêtes: 16.4 km (starting from St Pierre Laval)
- Stroll of the Bois Bouquet: 18.5 km (from Barrais-Bussolles)
- Stroll of the black faces : 19.8 km (departure of the Breuil)
Botanical trail of Le Breuil
The departure of this botanical trail of 3.2 km round trip is made either to the Domaine de la Chaize or to the river "la Besbre". All the species of trees, shrubs, bushes familiar of the Bourbonnaise Mountain are represented along the shaded path. It is also the opportunity to discover the world of birds using a signage as well as the fauna and the aquatic flora near "la Besbre" and the pond of the Chaize.
Geocaching: cache "Village-stage" in Lapalisse!
Geocaching is an original way to discover the riches of French heritage, so do not hesitate to participate in this giant treasure hunt! Lapalisse is the 8th town to join the geocaching network "Village-stage", after Vivonne, La Souterraine, Plombières les Bains, Bédée, Villers-Bocage, Saint-Thégonnex and Magnac Bourg. It is by taking the mythical route of the holidays that you will arrive in Lapalisse, city famous for its castle and its famous lapalissades which make of this town a cultural halt on your journey.

Go to discover Lapalisse by going to the coordinates of this new cache Village stage: N 46 ° 14.941 E 003 ° 38.113

Information on geocaching.com, good luck!